I can hear the feminist side of you thinking Oh, what about the mistake the boys make, Calm Down, It's coming soon sis, First thing off, No one really wants to destroy their relationship except the daughters of the devil.
We are girls, we always want it to work even If It means to chase the boy's soul and spirit out of It, as far as his body is present but at the end of the day, Our Intentions are actually pure lol.
Read Also: What are some great real life love stories?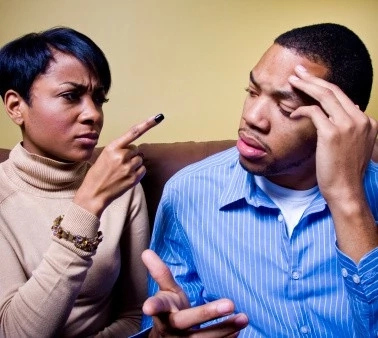 I get a lot of people who say Oh Pablo! You only write about girls are doing wrong, while you defend your homeboys but actually I just enlighten at the end of the day.
Now, what's the common mistake Girls Make That Push the Home Boys Away?
1. Chasing The Homeboy!
The Number One Rule, you don't ever chase the homeboy! If the homeboy likes you, He'll let you know, There's no mix-up or hidden clue? Who is he? Lai Mohammed? You don't chase the homeboy; you only show the homeboy Interest to allow this guy to know he won't be shut out when he asks you out.
Sis, no part of interest includes giving blowjobs, coming over seventeen times a week, sending nudes and breasts pictures daytime or night, 25 missed calls in 12 hours or 16 WhatsApp texts in an hour space and we do not call him because he hasn't come online in 6 hours, Are you his mum?
If the Homeboy doesn't seem like his coming forth, Don't try to convince him or play games, Don't initiate relationship conversations or reply all of his WhatsApp statuses, and please don't ask him out, Nobody Is too shy to ask you out, no dey whine yourself.
Sincerely, Don't pursue a man, He would let you know If he likes you! Look I'm not saying guys are turned off by bold women or all of that, It's not bad If you initiate, but after that give It little space and let him come to you, let him chase you, This is how homeboys bond and develop feelings.
Pull back a bit and give him the space to come to you
Read Also: Who loves stranger things
2. Self-Obsession
Look, I get you are a baby girl, and all of that, you deserve to be pampered, all that twitter anthem, but could you try focusing on the person you're with a bit?
All you do is focus on your wants, your needs? Your Worries? Do You Even Focus On What Your Guy Needs? Stop Turning the Homeboy into an Object who is just a means to an end.
That's why most of the time you aren't able to keep a man's attention beyond a few dates and because you are just set on achieving some kind of "dating" goal but you aren't connecting to him, He's just a means to an end for you, a form of tool
Imagine yourself as a 5 Star Chef, Mia Khalifa, The Best House Keeper and You're still as smooth as Dj Khaled while telling him you love him but you don't penetrate him on a deep level yet because It's not genuine and you're just trying to get him to do certain things for you.
Funny thing is most times, girls are just forcing these kinds of relationships out of peer pressure, you don't even really like this chap so move it, sis.
It's alright to focus on yourself, a better version of you that's happy and complete not just a version that's all about, Focus on feeling great about your life and who you are, yes self-appreciation not self-obsession, Call Yourself a Baby Girl and allow the homeboy soak it up lol, this is what really captures his attention.
Read Also: I am in love with my friend girlfriend..guy please need advice
3. You Are Too Needy & Entitled
Don't go dating someone that can't even buy you 2 Doughnuts and 1 Chapman, Don't Get It wrong, most of the time Needy isn't about material things, it's about you calling every hour, you want all of his time, attention then your neediness goes from being a behavior to being an entitlement.
You don't want him spending time around other women, you always want reassurances he cares and that's you making him your universe and most of the time that's you feeling emptiness on the inside and nobody else can feel that for you.
There's nothing wrong in wanting all of this but placing too much hope and expectation on a relationship, It's called desperation and It kills It.
Stop being entitled, setting stupid high standards you know would be so tough on him, Homeboys crave appreciation, the same way women want to be cared for and adored, Homeboys want appreciation, I dunno how many times I get to sing this to your ears.
See him for who he really is, appreciate him and he wants to bond and commit to you, It's the simple trick girls.
Read Also: I am in love with my best friend sister. Please guys your advice is needed
4. You Are Too Negative
Nothing is loving about a sarcastic, nagging, bitter, frustrated or angry lady, He has to calculate in his head before he can tell you things, He can't even ask you for favors because he knows you won't even do It, you just make him sweat for zero reasons.
This does not mean he would stop loving you but you just make acting loving towards you unnecessarily hard and trust me, there are too many hoes willing to make the job way easier.
It's okay to get dramatic sometimes, We love it but when a Homeboy feels he can't make a lady happy, You know what's next? Nobody wants to be someone's emotional dumping ground.
5. Committing Too Soon
Acting like you're in Lekki If You're on Third Mainland Bridge, You'll only fall into the River, That's It, Now Imagine Onome meets Pablo, Onome really really likes Pablo, Onome cuts off all other potential Suitors and focuses on Pablo when Pablo did not ask to exclusive then Pablo tells Onome "I like our relationship but I don't want to label It", Now Onome still continues hoping I'll change my mind
Things could be quite tough for Onome, Pablo might be better than the rest of her suitors but no homeboy is going to deepen a level of commitment unless he has to, Pablo would only commit to someone he's inspired to and If It benefits him, Imagine me being paid salary without working, You think I'll still want to work?
Stop acting like his girlfriend If he hasn't said otherwise, Work on yourself, If you're incredible, You think anyone really wants to lose an incredible person?, You set your goals and achieve them, Don't look desperate, It just causes withdrawal.
Read Also: How to maintain a good relationship with your partner
Imagine being a homeboy with an Incredible woman who is sitting on the fence, You know she's going to leave If you don't commit, What do you do?
But now imagine being a homeboy with an incredible woman who sticks around even when he does not commit, definitely, you'll feel relaxed!
Enjoy your relationships and don't stress Sis, It'll all work out!
👉 Relocate to Canada Today!
Live, Study and Work in Canada. No Payment is Required! Hurry Now click here to Apply >> Immigrate to Canada