Popular controversial Prophet Chukwuemeka Odumeje "the Lion himself" the president of the Mountain Of Holy Ghost Intervention Ministry.
Chukwuemeka Odumeje
The controversial Anambra-based radical Nigerian pastor Chukwuemeka Odumeje has always been in the news for all of the very wrong, unusual, and the weirdest reasons owing to his lifestyle, healing, and deliverance approach which majorly involves slamming or throwing people on empty chairs like WWE superstars would their opponents.
Read Also: Religion in Nigeria is something else true or false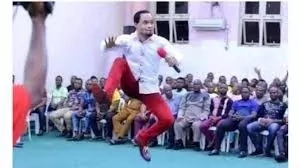 Since his emergence as a pastor, Chukwuemeka Odumeje has courted countless controversies and has shot up as one of the most controversial pastors in Nigeria.
His odd miracle sessions involve him lifting members of his congregation and throwing them at empty chairs. He has since been dubbed as a 'SmackDown Pastor' by many who consider his moves synonymous to WWE Superstar, Brock Lesnar's and John Cena's. During his WWE sessions, he is often being referred to as the 'heavyweight servant of the Highest '.
Read Also: Who is Ziporahh in the Bible
Amidst all of his controversies, Odumeje has created quite a bond with some of his Igbo counterpart Nollywood actors, from former Anambra state governorship aspirant Yul Edochie, Zubby Micheal and more. At some point last year a video of him and Zubby Micheal hit the internet of both men dancing to a Zlatan Ibile's song "Zanku", at another time he was seen spraying wads of cash in his church while dancing to Mr. P of the defunct P-square song "One More Night".
Besides being a WWE wannabe, Chukwuemeka Odumeje has been accused of staging miracles, one of which involves raising the dead in his church, an event that was captured on camera. The same applies to other miracle sessions he has conducted.
Here some of the 10 basic facts about Prophet Odumeje you need to know about:
1. Prophet Chukwuemeka Ohanaemere Odumeje hails from Orlu in Imo State but lives in Onitsha, Anambra State.
2. He Started Mountain of Holy Ghost Intervention Deliverance Ministry Onitsha, on 10th September 2010 as deliverance ministry in a public yard at No 14 Osumu street Odakpu, Onitsha, from where it was moved to Okija hall and subsequently to Arondizuogu hall, all in Odakpu, Anambra State.
3. He has an array of nicknames he calls himself some of his most popular self-proclaimed names are "Idaboski Bahose", "Odumeje the Lion himself" another is "the Liquid Metal", the SmackDown pastor.
Read Also: What will make you happy right now?
4. The church has moved to its permanent site at No. 88 Bida road Fegge, Onitsha, having over 20,000 seating capacity.
5. He is happily married with kids, he has 4 children 2 boys and 2 girls. However, shields his family from the media.
6. He claimed to have resurrected a dead woman in a video that went viral in 2017. There were wild spread reports that he intended walking on water but he publicly debunked this rumour in August 2019.
7. Chukwuemeka Odumeje 'The Lion himself' his estimated net worth is roughly pegged at around N200 million.
8. He claimed the Onitsha inferno was a spiritual attack and as such happened because he was not around to defend Onitsha. He prides himself as the defender of Onitsha and of the East.
9. He is called the Father of Nollywood due to his investment in the industry and his close ties with popular celebrities and actors including Yul Edochie, Zubby Micheal, Charles Okafor "Mr. Ibu" who have been seen at some point visiting his church.
Read Also: How can i cash out
10. His mode of worship has attracted public outcry as he performs several "postulate" acts during Sunday service such as secular dancing, spraying money, kicking or punching members of his Church, picking them up and slamming them against empty chairs in WWE fashion, etc during service and Deliverance.
👉 Relocate to Canada Today!
Live, Study and Work in Canada. No Payment is Required! Hurry Now click here to Apply >> Immigrate to Canada