Matured minds are always the beneficiary of true love and they have ways of expressing love to their partners truly but we won't shy away from the fact that some people still have challenges in showing their partners love and it has caused a whole lot of issues in so many relationships today.
But this writes up is to give you top amazing facts to show your partners love in which it will be appreciated from them. But don't let us forget that love should be reciprocated that is showing life should be mutual and should be shared by both parties.
Read Also: How to know if a girl really love you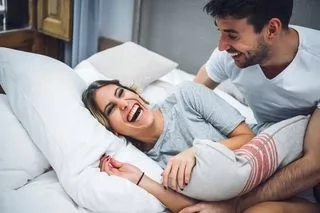 With knowledge gotten from Garry Chapman, the author of 5 love languages and other sources that talk about love and relationships and also from experiences, without further ado, let's go into the details of this write-up, Top Amazing Ways To show love to your partner.
Physical Contact
Physical contact in the normal sense means contact between surfaces. One of the ways to show love is actually through physical contact.
Read Also: Can true love be found when person is wealthy?
Physical contacts like hugs, pecks, ki$$, the holding of hands, etc are ways to show love to your partner. So when starting a relationship this is one of the things to ask, do you like hugs, pecks, ki$$ or any other physical touch you see, I have a friend who once told me he loves cuddles.
And if you can't ask do well to note his or her reaction whenever you give him or her any touch as simplest as holding his or her hands and note if that makes him or her happy. Note: Most ladies love physical contact, that is why most of them always request for morning pecks as a way of greeting them.
Words Of Affirmation
This is one of the major ways to show love to your partner and it has also been a major problem in some relationships as it has not been used.
Words of Affirmation simply means words that are said to complement, to appreciate, to encourage, to apologize, to express your mind in words to your partner.
Some ladies or lemme say all ladies love to be complimented especially when they dress or just made a new year or they just bought a new show or a new bag, they love it that their partners appreciate them for who they are.
Imagine a lady just make her hair and his partner did not even notice not to talk of complementing them and maybe like 10 guys have actually appreciated the new look of the lady, It makes her feel unhappy.
Or the guy does something and no thank you from his partner or an apology from the other party. So words of affirmation also spice up relationships but in my own view I believe every person's on Earth loves and needs this word if affirmation. It might not just be their major way of receiving love.
Read Also: What are some great real life love stories?
Service
This is something rendered to assist or help someone. This is one way to show love to your partner because of it kind of gets to the heart of him or her.
The only thing is, it might not be the person's major way of receiving love. For instance imagine you are with your partner and all of a sudden he complained about having to do laundry and does not know how to go about it due to his busy schedule and you as the lady just felt you could be of help and you helped him with the laundry either by yourself or by making use of the laundry services, you have rendered a service to him and there's no way he won't be happy or the lady needs to get to get some stuff from the market and you helped her with it without her sending you to do it from her. It will really touch either party that received such service.
Gift
Let me start like this, it is funny to see how some guys love their partners to gift them gifts and also how some ladies go about been crazy when their partner buys gifts for them.
I will be bringing two things together here gifts and surprises. One of the ways to hit any man or woman's heart is by gifts and surprises.
Imagine as a guy your lady's birthday is coming soon and you are planning a surprise party for her with her friends without her expecting it, it's going to blow her mind.
Imagine as a lady you saw a very quality and nice shirt in a boutique and you got it for him, it's going to make him happy. Let both parties know if that is what ministers love to him or her.
Read Also: Who loves stranger things
Time
The time they say is money but when it comes to showing love to the partner of yours then I will say time is love. And I will like to create law from here which is the more the time you give to your partner, the greater the connection and love you enjoy from your partner, the greater the connection and love you enjoy from your partner.
I will be talking about two things here which is Time and Attention, this is one of the tools or keys to a long-lasting relationship.
This is the only way to show the love that helps you understand or know what ministers love to your partner so well, either it is by words of affirmation, physical contact, service, or gifts.
Let me say this from research and from experience all ladies love time and attention I stand to be corrected. Not just that they love time and attention they want it both in quality and quantity. And I don't mean that men don't want it but ladies want it more.
Ladies love to always see their man, talk at length, and also get attention from them. It really does minister love to them. I asked a friend of mine one day, how many times must your husband to be, talk to with you and she said every day and I was like, (sigh) it's okay.
So ladies want quality and quantity time, so much. Imagine a lady telling that in a month, her husband must be having 7 days break to spend with them every month.
The fact is the more time and attention we create for our partners is the more we bond with ourselves. Because after childbearing and everything, all that will keep two partners together will be the bond they've created from the time and attention you give to one another. Let both parties give themselves attention and time.
Read Also: *** before marriage is it good
So I believe if all these points can be used in our relationships it will make them spicier and don't forget to know which of them ministers love to your partner and it is possible a partner feels loved by two of the above points.
And another thing let each partner discover which one ministers love to him or her so that you can inform your partner about it and you can receive love in those areas.
👉 Relocate to Canada Today!
Live, Study and Work in Canada. No Payment is Required! Hurry Now click here to Apply >> Immigrate to Canada