Lifestyle
Man Cancels Marriage As Fiancée Insists On N175k Wedding Ring
A groom to be, Mr. Mathew Ibang has reportedly canceled his marriage over his fiancée's demand that he buys an original 18 karat Gold Wedding Ring worth N175,000.
The wedding scheduled to hold on the 15th day of May has since been canceled over Ibang's refusal to purchase 18 karat Gold wedding Ring worth over N175K.
Read Also: Why do people improve themselves after a divorce but not during the marriage?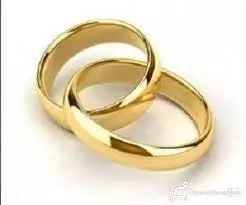 Ibang who works as a Programmes Officer at a Non-governmental Organisation (NGO) in Abuja, insisted he has no reason for buying such an expensive ring for a wedding.
He said he made all efforts to get his fiancée to accept a wedding ring between N15k to N20k, but she refused and insisted it is either the Karat Gold or nothing.
Recounting her own side of the story, the fiancée by name, Mercy, said she accepted to go ahead with the marriage on the condition that they would not wear a ring on the wedding day but rather use the bible for an exchange of marital vow.
Read Also: What does it take to have a good marriage life
Mercy who works in one of the telecommunication companies offered to contribute 50% of the money to purchase the ring.
Ibang who does not seem to see any reason for buying an expensive ring for their wedding, while speaking to WAR, said the money should rather be kept for some other thing other than buying a ring that can get missing at any time.
Mercy who had already ordered the ring got angry when Ibang refused to contribute 50% of his own share to pay for the ring.
Angered by the development, Ibang has reportedly suspended the wedding, saying he is no longer interested in the marriage.
However, Mercy while confirming the incident, told WAR she had since accepted to go on with the wedding without the ring. She, accused Ibang of trying to use a ring as ground not to marry her, adding that she was ready to pay for the ring if that was the problem.
Read Also: *** before marriage is it good
Ibang has since said he cannot go on with the marriage describing Mercy as a materialistic woman that will kill him should he have any financial challenges.
———————————————-
What's your opinion? (who is wrong or right)
Is the groom wrong or right in his decision, and his the fiancée right or wrong in her decision?
If it were you, what would you have done?