2020 US election is drawing near and Democrats are looking for the best candidate who will beat Donald Trump, who is the sitting Republican President. Now the question is, Can Michelle Obama Beat Donald Trump In 2020?
Well, according to a former Bill Clinton pollster the former first lady Michelle Obama is the right candidate to run for Democrats in 2020.
Douglas Schoen said in an op ed for The Hill that Obama would fare better against incumbent Donald Trump than any of the other candidates who are being touted as potential future leaders.
How Can Michelle Obama Beat Donald Trump In 2020?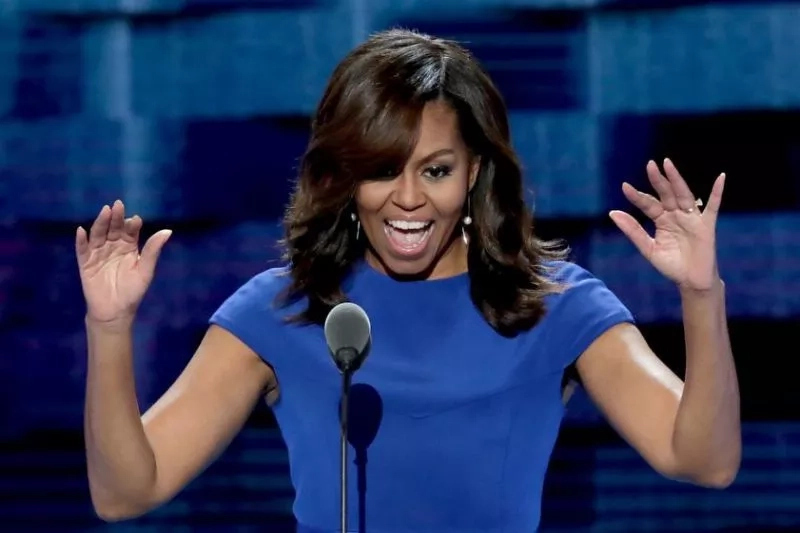 "As I've said before, the Democrats need an alternative plan to rebuild and unite the party if they have any hope in winning back seats in Congress in the 2018 midterms, nonetheless the White House in 2020," Schoen wrote for The Hill.
Michelle Obama acknowledges the crowd before delivering remarks on the first day of the Democratic National Convention at the Wells Fargo Center, July 25, 2016 in Philadelphia, Pennsylvania. Alex Wong/Getty
"This alternative plan requires a new, united opposition, led by a political leader with widespread popularity. The only person I can see accomplishing this would be none other than the party's most popular political figure: Michelle Obama," he added.
Given her popularity as first lady, with an average 65% approval rating, and almost universal popularity within the Democratic Party, it is not the first time Obama's name has been banded about as a possible future presidential candidate.
But the former first lady said in December 2016 during an interview with Oprah Winfrey that it wasn't something she was keen to put her family through a second time.
"I don't make stuff up, I'm not coy—I'm pretty direct. If I were interested in it, I'd say it," Obama told Oprah during their interview.
She added that despite the hopes of some Democrats that she would run for office, "people don't really understand how hard this is. It's not something that you cavalierly just sort of ask a family to do again."
Don't miss: Is Hillary Clinton contesting for president again? Find Out Here
Despite suggesting Obama would be the best candidate to unite the party, Schoen said his view was not an endorsement of her candidacy.
"Let me be clear: This is not an endorsement. I have been, and still am, critical of Barack Obama's presidency," Schoen wrote for The Hill.
"Michelle Obama would not be my candidate, and I do not agree with many of the positions I believe she would advance. But as an analyst, Michelle Obama is clearly the Democrats' best chance to reunite the party and win back the White House in 2020," he added.
👉 Relocate to Canada Today!
Live, Study and Work in Canada. No Payment is Required! Hurry Now click here to Apply >> Immigrate to Canada