Some players in the English league have started having their view on the restart of the English premier league, Manchester City striker, Sergio kün Aguero shows his emotion and fear concerning the continuation of the English football.
The premier league was suspended due to the crisis surrounding the entire world right now which made a league of different regions is placed on hold, some still in suspension like premier league while some concluded their season prematurely.
Read Also: Who is the captain of Arsenal football club?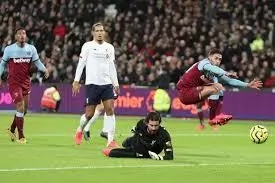 There are many people that are infected but show no sign of the infections which unknowingly by them can be spread again to other people most especially their families.
"When one person is ill we will think oh what's happening there" due to fear of getting infected. Meanwhile there is rumour concerning the use of nose masks by players if possibly the premier league football would return.
The English premier league FA plans to finish the premier league games while it remains 10 matches left to be played if it will start June 8.
Read Also: When is football coming back???
The meeting is said to hold on Friday, Premier League clubs as well are expected to have a meeting on when training is to begin.
Chelsea player Antonio Rudiger also speaks on the idea to continue the premier matches.
"If we continue to play and there is a danger, and we ignore that while people are dying somewhere in the world, I don't know if that would sit right on my conscience," Rudiger said.
Returning back to pitch is not the problem but the safety of the players and coaches is also a concern. Though it was stated there won't be any crowds or fans to cheer their team but this is still not edible.
United kingdom has recorded many cases of infections with enormous death of people while some are still yet tested.
"If t everything is fit and it comes from those in charge, no danger then we can have a re-start", Rudiger said.
"But if people are still getting infected and dying and the number of infections keeps increasing, then we shouldn't be talking about re-start", he added.
Read Also: Pes football 2020
Liverpool has won no premier league title since 1990, so if the league is concluded prematurely definitely the title goes to Liverpool, their first title since 30 years ago.
Liverpool has prided itself and has shown the spirit of winning the premier having a beautiful start to the season having beaten only just once this season.
Klopp team won the champions league last season having lost to Manchester city in the league title race with only one point separating them, as they finished second last season.
👉 Relocate to Canada Today!
Live, Study and Work in Canada. No Payment is Required! Hurry Now click here to Apply >> Immigrate to Canada