Coronavirus, COVID-19 a very dreadful disease that has claimed innocent lives. The World we live in today is gripped by fear of the unknown. This virus is said to have originated from Wuhan, Hubei province China since November 2019.
Coronavirus comes from a large family of viruses that are known to cause illness ranging from the common cold to more severe diseases such as Middle East Respiratory Syndrome (MERS) and Severe Acute Respiratory Syndrome (SARS).
Read Also: Covid 19 updates??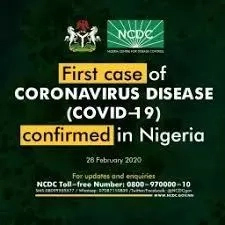 This virus has no intermediate cure as of now as stated by the World Health Organization.
Nigeria already has 224 confirmed cases of Covid-19 not to say the rest of the World that has already been hit by this deadly pandemic.
Italy, America, Spain, England, Iran have all recorded thousands of death from this pandemic. The first case of Covid-19 dates back to 27th February 2020 when an infected Italian citizen who worked in Nigeria and flew into the commercial city of Lagos from Milan on 25 February.
Authorities said he was stable with no serious symptoms and was being treated at a hospital in the city until his recovery.
Read Also: What lessons have covid-19 taught you as a person?
The Nigerian government has done a commendable but yet improvable job in tackling coronavirus. The citizens have also done their part but despite all these actions, the pandemic continues to wax stronger in the African country.
In the first instance, the main job lies on the shoulder of the government. They are responsible for the well-being of society.
They should improve the health sector to be well equipped to fight against this virus. China reportedly built two modern-day hospitals in ten days to tackle Covid-19, changes have since been seen.
I believe the Nigerian government has the capacity to do such a great task. The government should create and fund awareness and sensitization programs on the media, this would enable the people to be well aware of the Covid-19 pandemic.
Government should equip the hospitals with respirators and other needed equipment for the infected patients. There should also be a significant improvement in the way the National centre for disease control handles the situation.
They should be ready to listen to anyone who reportedly has the symptoms or not. There should be quick response from them, this would, in turn, save a number of lives.
Furthermore, the government should impose an indefinite nationwide curfew until there is a certain vaccine or cure for the virus.
Read Also: COVID-19 highlight
There should be no movement across national or state roads. Stalls that sell daily needs and foodstuffs should be the ones to open and only at designated times.
The stalls should be provided with hand sanitizers, gloves, nose masks, and many other protective kits. Government should also provide the citizens with this protective equipment.
There should be a Nationwide disbursement of foodstuffs, sanitizers, gloves, nose masks amongst others to sustain the people until the lockdown is over. Anyone caught disobeying the laws stipulated should be arrested and quarantined for the time being.
In addition, the citizens have a major role in tackling Covid-19. The citizens should report any suspected case of coronavirus to the authorities.
Anyone who just came back from a journey should self isolate him/herself for a number of days until he or she is being cleared.
The citizens should hearken unto the phrase " Stay indoors", doing this prevents them from coming into close contact with anyone who has the virus.
Citizens should endeavor to wash their hands, clean their houses, try not to allow the hands come into close contact with the nose or mouth.
Read Also: Any Hope about this corona virus pandemic
They should follow all protective guidelines stipulated by the Federal Ministry of Health.
Moreover, This virus doesn't move unless we do so, it is best advised to stay indoors and quarantine. Follow all procedures.
If all these actions are put into place we are assured of a Coronavirus free Nigeria that we all are yearning for.
Stay safe.
👉 Relocate to Canada Today!
Live, Study and Work in Canada. No Payment is Required! Hurry Now click here to Apply >> Immigrate to Canada