Ways of Keeping your Hair Stylist Forever
Hairstylists are part of us because they play a very great role in our lives. Having one who is good at it makes it more interesting.
We should always take out time to drop a few thank yous to them, it pays.
How Important is your Hair Stylist to you?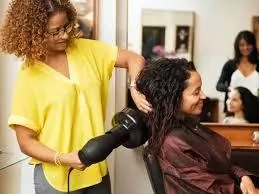 Read Also: What is your hair regimen
Maybe you have forgotten just how important your hairstylist can be? Let me refresh your memory. Have you ever imagined coming out of the salon and looking like the ugly version of yourself? That's how needful it can be to have a good stylist. They are mostly responsible for why we are called "pretty".
What about a scenario where you have to miss an event because your stylist couldn't meet up? That should also show you how much we need a good stylist.
How about your mum looking like a weirdo at your wedding because her stylist failed in her duties? This is how important a good hairstylist can be in our lives.
Our hairstylist has the power of making us the center of attraction. The hairstylist cuts and styles our hair to give us a very pretty look that could make people's eyes glued to us.
They make heads turn when we pass because they give us a killer look. With a very good stylist, we don't even need makeovers to look beautiful.
With their professionalism and expertise, they know the kind of hair you have and the kind of products to use on our hairs.
Read Also: 13. Describe the worst haircut you've ever had.
Five Ways of Appreciating your Stylist
Now that you've seen how important the hairstylist is, have you realized that there is a need to appreciate her efforts? Well, yes there is.
Due to not leaving a thank you, she might be unhappy that you don't like her services, that's about to change now if you could do any of these:
Buying them gifts
No matter how little a gift is, they are always appreciated. You shouldn't go all the way to buy your stylist a house or car before you make him /her smile. A cute little package dropped could do the magic and trust to also get a better service when next you drop by.
Drop "thank you "notes: You can make it very short and simple, you don't have to write a whole book just to say thank you.
A few lines of powerful and sincere words could capture the heart of your stylist. For instance, you could say, "you're a truly talented stylist and I always enjoy my appointments.
Please accept this gift card and get yourself some well-deserved coffees on me. I'm already looking forward to my next appointment".This alone shows how grateful you will always remain.
Read Also: does chebe powder and karkar makes hair grow
Refer to other people
Sending referrals to your stylist could also be a great way of helping in the growth of the business. From time to time tell your friends about your stylist, take them to the place if possible.
Tell them how your stylist is the best in town. With that, you might not have given your stylist the whole world but it shows how thankful you will remain.
Social Media Posts
Maybe you can also make a social media post telling the world how much of a diva you feel like because of your hair.
Say how beautiful you feel and then write appreciative words about the hands that did the magic. Tag him/her so they can see it. That move alone could go a long way.
Drop Extra Tips
Once in a while after getting your hair done, you could drop some extra cash for your stylist. With that, you could say how thankful you are for always looking beautiful through her.
Gift Ideas for Your Stylist
If you decide to go with gifts, we have a few suggestions that could get her feeling all loved up. .Have you considered surprising her with a cake? That can work. You may also want to gift her with a pair of earrings, a set of hair kits or whatever you can afford.
Read Also: How do you get rid of strong hard and old razor bumps that look like keloids?
Becoming Her Favorite Client
Inasmuch as the word, 'thank you ' is very common, it's not everyone that knows how to use it. Showing appreciation in any little way you can is always advisable.
Thank yous are powerful and should be used often. That way, you will be occupying a special spot in her heart. Our hairdressers are part of our lives and we should appreciate them at any given opportunity.
You can check out some of the items we offer, they are pocket friendly and could give you more ideas on the kind of gift to buy.
👉 Relocate to Canada Today!
Live, Study and Work in Canada. No Payment is Required! Hurry Now click here to Apply >> Immigrate to Canada