Football is all about entertainment. An entertaining football match is always a memorable one. And many footballers have over the years entertained us with their immense talent, touches and trickery on the football pitch.
Dedicating an article to the best of the best dribblers who have shown the world their special abilities is something worth doing.
Read Also: Who is the captain of Arsenal football club?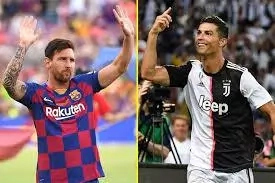 The ability to play football is one thing, but quality mesmerizing dribbling ability is a different thing entirely.
In fact, it is said to be a work of art. Join me in an exciting discovering of the best of the best dribblers in world football history.
Analytical Ranking Of The Top Dribblers In World Football History:
10. Neymar Junior Is A Special Kind Of Dribbler
Not many of you expect Neymar to be ranked this low, but the Brazilian and PSG Midfielder will take this spot for now. Although not much can be said of his dribbling abilities now, a young Neymar in the Brazilian league was a ferocious dribbler with pace and speed.
All you need to certify this claim is by checking his old youtube videos whilst he was at Santos. Neymar dribbles for fun and taunts.
Read Also: When is football coming back???
9. George Best With The Ball Is Electrifying To Watch
The legendary Manchester United footballer had it all; speed, scoring and silky moves. His feet were like magnets for the ball and he made dribbling looks easy. With a strong right foot, defenders and opponents found it very hard to win the ball against Best. His dribbling movements is so good, he uses it to dodge tackles.
8. Zinedine Zidane Will Dribble You With Perfect Body Movements
The Real Madrid legend was also a good dribbler in his time. Apart from the ability to pick passes and penetrate defences, Zidane dribbling abilities helped him to be that ideal Number 10 to quickly see through spaces and release the killer passes.
It is no wonder Mesut Ozil has always maintained he models his game with that of Zidane because of the German regards the Frenchman as the best Number 10 in football history, who would argue that with him?
7. Cristiano And Lionel Messi Share A Spot Together
Eternal rivals and football gods; Cristiano Ronaldo and Lionel Messi come to this list sharing the same spot. Their dribbling powers may have waned over the past few years but we all know they were both incredible dribblers during the early stage of their career.
A young Cristiano Ronaldo running at you with his flicks and skills will make you quiver in fear and for Lionel Messi, you will only stand and wonder at his technical dribbling abilities.
Read Also: Pes football 2020
6. Ronaldinho Was Born To Be A Dribbler
Of course this list will be incomplete without mentioning the former Barcelona playmaker. Arguably one of the best dribblers in the last decade that the world has ever seen.
He is said to be the inventor of many tricks and flicks some footballers copy today. A proven goalscorer and all-round midfielder can just decide to dribble you until you get confused and convulse. Ronaldhino did amazing football dribbling during his career.
5. Austin Jay Jay Okocha Is A Very Different Dribbler From Africa
The former Super Eagles captain hold this spot for the beautiful and crazy dribbles he has done on the football pitch. Austin Jay Jay Okocha dribbling abilities and runs are unique.
If there was anything called Ballon D'Or for Dribblers; Jay-Jay Okocha would have won it multiple times.
A talented footballer who will always be remembered for making legendary German Goalkeeper Oliver Kahn suffer in his hands after dribbling around the defence. It is also incredibly surprising that Jay-Jay played for a team like Bolton Wanderers in the Premier League.
4. Diego Maradona Body Feints Stood Him Out
The Argentine holds this spot as one of the best dribblers in world footballer for all his good body feints that made him escape the tackles of defenders. His solo goal in the FIFA World cup match against England will always be a gentle reminder of what a fantastic dribbling footballer he is.
Read Also: We don't know when football could commences again
3. Pele At His Peak Dribbled The Life Out Of Defenders And Oppositions
He won three World Cups and is regarded as the best player in world football history. But there is also another extra about the Brazilian; a young Pele will Waltz through five to six opposing players like a bird gliding through air. His runs were so well-timed, it makes his dribbling prowess more pronounced.
2. Garrincha Made Nut-Megs, Feints And Dribbling Turns Look Easy
The Brazilian with the awkward-looking physique caused by a deformity that made his right leg bent and a short looking left leg. Garrincha dribbling was so good, he made defenders wet their shorts in fear.
A Player with an explosive dribbling ability like Garrincha is one of a kind. He won the World Cup twice in a team that also had Pele.
The Brazilian is renowned for his incredible acceleration and combined with turning and twisting defenders for fun through his dribbling. To confirm my eulogies of this Legendary footballer, go check out some youtube clips of him- His dribbling is massive!
1. Ronaldo Is A Deservedly Number One In Dribbling
Imagine the combination of Ronaldinho dribbling abilities, together with Cristiano Ronaldo and Lionel Messi deadly scoring prowess; what you will get is RONALDO! The Brazilian was a fearful and ferocious dribbling centre forward who ripped through defences like pieces of paper.
The Ex- Inter Milan and Real Madrid striker is not your ordinary dribbler- he is renowned for his trademark step-over. Remember his step-over leading goal against Ghana in the FIFA 2006 World Cup?
Read Also: Best footballer in the world?
A special dribbler who undoubtedly deserve to be the number one on this list. Peak Ronaldo did amazing runs, slalomed through defences, made solo run goals look easy.
Notable persons missing in this list are Alexis Sanchez, Eden Hazard, Johan Cryuff, Dennis Bergkamp and Luis Figo. Got any other additions you think are worth mentioning?
Thank you for reading.
👉 Relocate to Canada Today!
Live, Study and Work in Canada. No Payment is Required! Hurry Now click here to Apply >> Immigrate to Canada