President Donald Trump has retweeted an animated gif showing him hitting a golf ball at his 2016 presidential rival Hillary Clinton and knocking her to the ground.
In another post sent in a Sunday morning flury of tweets he mocked North Korean leader Kim Jong Un, referring to him as "rocket man."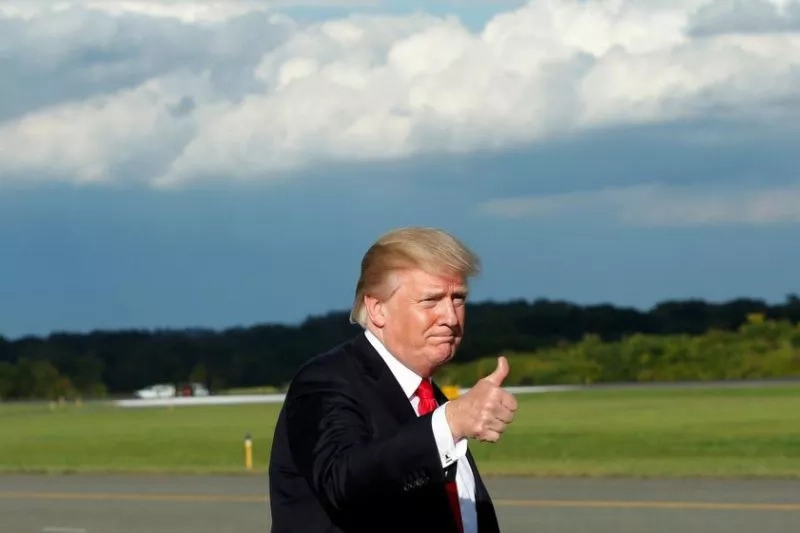 U.S. President Donald Trump gestures as he arrives at Morristown municipal airport for a weekend at the Trump National Golf Club in Bedminster ahead of next week's United Nations General Assembly, New Jersey, U.S., September 15, 2017. REUTERS/Yuri Gripas
Trump is currently at his private Bedminster club in New Jersey ahead of his first attendance of the United Nations General Asembly meeting in New York this week.
"I spoke with President Moon of South Korea last night. Asked him how Rocket Man is doing. Long gas lines forming in North Korea. Too bad!," the president tweet.
In other messages Trump retweeted a Bloomberg story reporting he may be worth as much as $2 billion to Twitter, and boasted of America's growing military and economic might.
Democrats and Republicans critcized Trump's Clinton retweet, in which footage was spliced together of Trump striking a golf ball and Clinton falling over, made to appear as though the ball had struck the former secretary of state.
"Some Trump supporters defend the indefensible. Retweeting himself hitting golf ball at Hillary Clinton, not normal, adult or presidential," tweeted Republican strategist Ana Navarro.
"clASSy," tweeted Democrat lawmaker Eric Swalwell, in reference to Trump's Clinton tweet.
Walter M. Shaub Jr., the former director of the independent Office of Government Ethics who resigned in July after criticizing Trump, declared "this man is unfit," linking to a news story about Trump's Clinton gif.
The tweets come after a week in which Clinton has released her memoir and North Korea launched a ballistic missile over Japan.
In August, Defense Secretary James Mattis was forced to emphaise the importance of diplomatic solutions to the North Korea crisis, after Trump tweeted "talking is not the answer" to the situation.
Trump's Kim taunt is presumably a reference to 1972 Elton John song Rocket Man.
In July, Trump was accused of inciting violence against journalists after retweeting a gif in which he body slammed a CNN avatar.
👉 Relocate to Canada Today!
Live, Study and Work in Canada. No Payment is Required! Hurry Now click here to Apply >> Immigrate to Canada