The quarantine caused by COVID-19 has presented a host of new challenges for modern life; chief among them the millions of couples who have had to acclimate not only to working at home — but working together.
For couples who aren't used to spending all day in one another's presence, it can be pretty difficult to get adjusted to all of the nuances of your partner's working style.
Read Also: How do one make money from home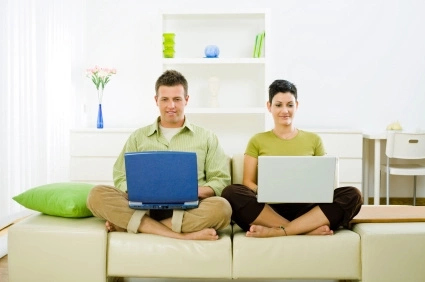 Whether it's managing time, space, expectations, or periodic interruptions, there are a few crucial steps you can take to improve your work-from-home situation.
Here, Dr. Rhonda Richards-Smith, an LA-based psychotherapist and relationship expert, shares just how to do it.
Read Also: How do I burn fat at home in this lockdown?
Below are 3 Things Couples Who Successfully Work At Home Together Always Do:
1. Set Boundaries
You cannot expect your partner to be a mind-reader.
Your schedules and priorities will likely differ, so it's important that you're super clear with one another regarding what your schedule typically looks like, and what you need to happen in order to have a successful workday.
"From the need to have separate work areas to set ground rules about interruptions throughout the day, be clear with your partner about your boundaries and be open to hearing theirs," Dr. Richards-Smith explains.
2. Be Clear About Expectations
The household management strategy that worked 6 months ago might not work anymore, Richards-Smith explains.
With two partners working at home, there's a good chance that chores and daily tasks will shift, sometimes dramatically.
Read Also: Mention one of the freelancer site?
This is two more people eating more meals at home, making various messes, and possibly having to homeschool or take care of pets or relatives.
"When working from home with your partner, assumptions about who will tackle household duties can lead to frustration and resentment," Richards-Smith explains.
The best way to manage? "Be open to amending your approach to the completion of essential household tasks and flexible as additional adjustments need to be made," she says.
3. Schedule Breaks
Though you might be acting like coworkers, remember that this is your partner, not your cubicle-mate.
In order to ensure you're taking enough time to reconnect, schedule breaks and activities that you can do together. Not taking specific time to turn your phones off and pay attention to one another is a big mistake many couples make, Richards-Smith shares.
Read Also: will E-learning work in nigeria
"Get some fresh air together, participate in a brief couples workout, or simply take a few moments to check-in and connect with one another each day," she says.
Your relationship will be so much better for it.
👉 Relocate to Canada Today!
Live, Study and Work in Canada. No Payment is Required! Hurry Now click here to Apply >> Immigrate to Canada